Directions To Tuscaloosa County High School




SPAIN PARK WELCOMES NEW COACHES


COACH BART SESSIONS - Spain Park welcomes new defensive coordinator Bart Sessions. Coach Sessions joins the Spain Park coaching staff following a 3 year stent as head coach for McGill –Toolen where he guided his team to 11-2, 11-1 and 12-2 seasons where he lost 1 region game. His head coaching career record is 34-5. Coach Sessions served as defensive coordinator on Daphne's 2010 state championship team and Prattville's 2008 title team.
Coach Sessions takes over the defensive coordinator responsibilities from Head Coach Shawn Raney.











COACH MARTY ROZELL - Coach Rozell joins Spain Park as the quarterback coach. He played high school football at Hewitt where he was the quarterback. He then joined the Hewitt coaching staff from 1992-2001. For the 2003 and 2004 seasons, he was the QB coach for Rush Propst and the Hoover Bucs. He returned to Hewitt for 2 years as the offensive coordinator and QB coach before embarking on an 8 year stent with Mountain Brook as the offensive coordinator and QB coach. Coach Rozell is regarded by his peers as the premier quarterback coach in the state.

























Jag Pride... Whatever It Takes......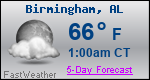 GOLD SPONSORS
Watkins Cleaners

SILVER SPONSORS
Bellini's Restorante & Bar
Bryant Bank
Coca-Cola
King Acura

BRONZE SPONSORS
Alex Shunnarah Attorneys
Char House Foods
Haute Couture Boutique
Off To Neverland Travel
Papa John's Pizza
Dr. James Sanderson
Southlake Orthopaedics

GAME DAY SPONSORS
Alabama Credit Union
Bryant Bank
Embassy Home Builders
Allstate - Jay Barker Agency
Tropical Smoothie Cafe'

SPONSORS
AVEDA Institute Birmingham
Chad Anderson State Farm
Crown Automobile
D. C. Scientific Pest Control
DICK'S Sporting Goods
Dorm Suite Dorm
GEICO – Evans Insurance Agency
Hoover Athletic Association
Jack's
James Harwell – Realty South
Kathy G. & Company
Money Management Services, Inc.
Moore Orthodontics
Premiere Chevrolet
Renasant Bank
Thompson Tractor Co., Inc.